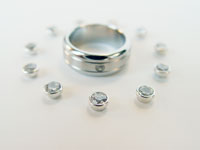 Stone Set Technologies founded over 30 years ago, soon ignited by the demand of new setting technology, grew from the original two founders and seven employees to an international company fully equipped to accommodate a customer base in the U.S., Europe, China and India. SST is the technological bridge between the gem industry, which constantly strives for new cuts, new sizes and new colors through the diffusion process, and the jewelry industry where new gemstone products are created by designers using a new range of materials never before used.
For the past quarter of a century, we have provided different families of innovative mountings that are the up to date solution for the assembly of these gemstones over those new materials, which mixed with precious metals, are among the most favorite items for consumers worldwide. Our history of active Research & Development has placed our company in the upper echelon of setting technology.
The Stone Set Technology mission is not only plan for the moment but for the future. Acting proactively to provide the latest setting technology on the market. Recognizing the constant changes in the jewelry manufacturing industry, we continue to excel above and beyond our competitors. At SST we've taken the very best aspects of setting technology and created something far more exceptional "The Unilock".